"Decoding Celebrity Jewelry Styles: How to Emulate Artisan-Designed Jewelry of the Stars"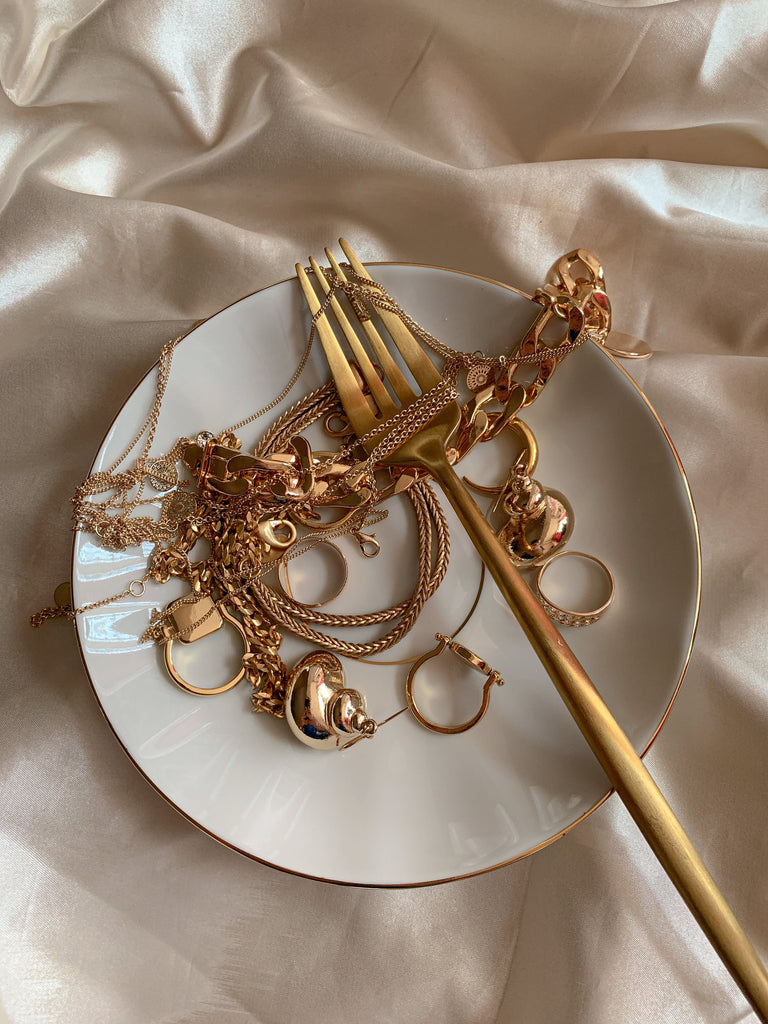 • Introduction
• Stackable Rings
• Bold Necklaces
• Ear Candy
• Brooches and Pins
• Bracelets and Cuffs
• Conclusion
We all have secret desires and mine? Well, it's unashamedly ogling at celebrity jewelry (who isn't prone to some good old-fashioned envy, right?). Celebs, with their glitzy trinkets and eye-catching adornments, have a pervasive power to redefine our perception of fashion. C'mon, admit it! We all have, at least once, daydreamed about twinkling like Jennifer Lopez at the grocery store (or maybe that's just me?). So, buckle up, folks! In this blog, we'll dive into the labyrinth of celebrity jewelry, its irresistible allure, and how to copy the heck out of them without filing for bankruptcy. Brace yourselves, it's Star Shine time!
Stackable Rings So, you want to master the art of stackable rings, huh? Alright, grasshopper, let's turn those fingers into enviable displays of shimmering glory! First off, don't be afraid to mix and match metals. Gold, silver, rose gold – it's like a funky metallic sandwich that screams "I'm fabulous and I know it." And when it comes to choosing the right stones and settings, opt for a mix of classic and unconventional. Why not throw in a cool heart-shaped amethyst alongside a classic diamond? Keep an open mind and unleash your inner ring connoisseur, because, honey, stackable rings are your playground!
One thing about A-list fashion is, subtlety doesn't stand a chance in hell. Remember seeing your beloved celebrities debuting neckpieces at red carpets which were so flamboyant that it made their diamonds blush. So, why reconsider when it comes to making a bold statement with necklaces? Selecting ideal materials is as crucial as choosing the right spouse for royal families (I mean, have you seen 'The Crown' on Netflix?). While investing in a gold necklace might make a fat hole in your pocket, enjoy the liberty of owning several in semi-precious metals and stones. An exquisite necklace does half the dressing for you (unless you plan to stroll down the Rodeo Drive naked). Pair your bold neckpiece with a solid or monochromatic outfit, and voila! You are red carpet ready, even if you are just attending a Sunday brunch.
Ear Candy Did someone say "ear candy"? Because we're totally here for it! From hoop earrings to statement studs, and even mismatched and asymmetric earrings, celebrities have been rocking these styles, and now it's your turn. Hoop earrings, your ears' best friends, are eternal favorites, and guess what? Size does matter! Go big or go home, or keep it small and subtle, you know, just like your secrets. Statement studs? More like "conversation starters," because everybody needs something to talk about at a party. And let's not forget those edgy mismatched and asymmetric earrings - they're like the rebel kids that ditched art class to create their own masterpieces. Remember, perfect symmetry is so passé! So, adorn those ears and let them shine like the stars they're meant to be!
Brooches and Pins Ah, brooches! Those lovely little things your grandma used to pin onto her cardigan, but guess what? They're back in vogue, baby! Vintage-inspired brooches are popping up on red carpets and in the wardrobes of A-list celebs. With unique designs and that nostalgic touch, they add a whimsical flare to any outfit. Want to stand out even more? Get creative with some über unique pins! (Think animals, flowers, even food items - because, why not?) So, how do you wear them without looking like you raided Granny's jewelry box? Try pinning them on jackets, dresses, or even hats for that extra oomph. Celebs and fashionistas, watch out - you're about to give 'em a taste of the brooch life!
Bracelets and Cuffs Ah, the art of layering bracelets and flexing with statement cuffs! Channel your inner fashionista by mixing and matching your wrist candy. Remember, there's no such thing as too much bling (wink, wink). Stack delicate bracelets with bolder designs, but don't forget to balance it like a tightrope walker - nobody wants to see you fall, darling. When choosing materials and styles, think about your overall look - after all, wearing a diamond-encrusted cuff with your sweatpants might be a tad too much. Unless that's your style, of course! The point is, there's no right or wrong, just your fabulous taste!
In the end, it isn't about impersonating our adored celebs, rather drawing inspiration from them. Going the DIY route can be fun yet perilous. With precarious hand-eye coordination, one may end up with something resembling a toddler's craft project rather than a jaw-dropping Tiffany piece. So, if you don't want to be stuck with something that looks like a failed Pinterest project, a pro artisan's touch is your savior! Remember, embracing these bling-bling styles is all about expressing your unique persona. So strut like Rihanna and twinkle like Taylor, because that, my friends, is the true essence of style-personified confidence.